On this gorgeous day I decided I needed to walk. I mean really walk, walk with a fully loaded backpack, plus three to four 16 ounce bottles of water, new hiking shoes, my trademark red bandana, and a good Audibile book to drown out the sound of passing traffic. That's my rhythm to a good long walk.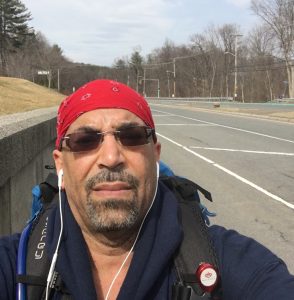 My mind keeps telling me I'm ready for the walk across Northern Ireland, but on this gorgeous day my 58-year-old body said I'm not ready – yet. From the Holyoke Highlands, I started out easily up a slight quarter-mile hill and onto Route 5 towards Northampton. Everything felt good with the sun shining gently down on my face as I pulled the shoulder and waist belt straps on my blue Osprey backpack. It felt like holding hands with a close friend.
Something was different though. The backpack and I have over 450-miles together as a couple, but it felt like we had lost touch with each other. Clumsily I struggled to remember where some straps attach, what goes in the backpack first – the light or heavy stuff; and where to put easy to reach essentials like Kleenex, baby wipes, and securing your keys and wallet. I had it all worked out before now it felt like I was starting over.
I carry a Osprey Aether 70 backpack, a large capacity, highly adjustable, easy to load rucksac that has over nine different pockets and compartments so it's easy to get confused. Nine months have elapsed since I last took it out on a 50-mile walk for hunger last June.
But it wasn't about the backpack being unfamiliar; I have become unfamiliar with my body in that short time span. Since last spring, I stopped walking for exercise. I took a break after logging over 1,000 Walk to Freedom miles between June 2017 and June 2018. That was a good walking year. I actually equaled the average number of miles walked by ancestral humans searching for food.
While my mind is perky getting my body back into gear will take a little longer. The weight of today's full backpack bearing down on my feet caused a few blisters to develop. On my next walk I'll have to tighten my shoelaces more to prevent my feet from sliding in the shoe causing friction.
I also need to take my backpack into one of the local sporting good stores that sell Osprey's and get help with adjusting my backpack for the weight that I'm carrying. The waist belt keeps sliding down my hips forcing more weight on my shoulders rather then sitting on my hips.
So I'm not ready yet. Just wondering how much tweaking is possible in this bag of bones.