After completing our Newtown to New Hope walk in mid-January, Jon, Keir and I began preparing for the next leg of our journey, New Hope to the Stoutsburg Sourland African American Museum in Montgomery, New Jersey. The 15-mile walk involved crossing over the Delaware River into Lambertville, turning right and then left onto Brunswick Pike (Route 31), and climbing a short half-mile hill before reaching a beautiful plateau and country roads to Hopewell.
One can imagine why the Underground Railroad passed this way because few people probably lived out in this remote part of New Jersey. Even today its mostly farms spread widely apart. With remote chances of encountering bounty hunters on the main road at night it was probably one of the safer routes from the Delaware River to the central part of the Garden State. And with a driver who was familiar with the area I'm sure there was more then one route to reach the next station stop in Hopewell, a community with free African Americans and Quakers.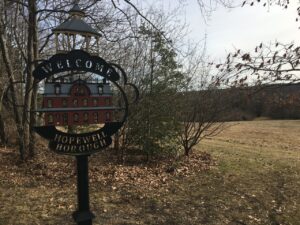 Hopewell is small community about seven and a half miles northwest of Princeton University. It retains its historic look dotted with large old Victorian houses and new tracts of housing development. Nearby Princeton during the 18th and part of the 19th century was a predominantly white farm community served by enslaved Africans. The college's first nine Presidents all owned slaves, as did many "planters" in the surrounding area. A planter was synonymous with being a slave owner.
New Jersey was a slave state and the last Northern state to abolish slavery in 1865 with the passage of the 13th Amendment. This fact sometimes gets lost in history because of the fierceness in which the States of the Confederacy fought to maintain its economic ties to slavery which the North had transitioned away from. But slavery started in the North and moved to the South.
Before every walk I try to research the area I will pass through online to learn as much as possible about what I will encounter in route. Sometimes I'm successful and other times there is little available information. For this walk I searched Slavery/New Jersey/Underground Railroad/Harriet Tubman. The Google search returned vital maps and descriptions mostly about the UGRR through Burlington County, and New Jersey's role and current historical overview.
More refined searches returned results about Princeton and then bingo – the Stoutsburg Sourland African American Museum. I rejoiced in the discovery at the keys of my laptop. It was the community that connected the UGRR spur from New Hope to Hopewell and subsequently to the main UGRR line running from Bordentown to New Brunswick and the Raritan River. Each of the towns were spaced about 12-15 miles apart, or four to five hours walking distance and less by carriage.
Free African American communities in small rural locations were historically located outside of the main town center because land was cheaper to farm. Whites permitted Blacks to reside nearby their communities so they could be served thereby maintaining the status quo. For Blacks it was also safer to live away from the white community for safety sake. About three miles outside of Hopewell in Montgomery Township lies the unincorparted community of Skillman where the Stoutsburg Sourland African American Museum calls home.
Since we crossed into Bucks County all of our walks have occurred on Sundays. It seems to be the day where all our schedules align. Sadly its a day when many places are closed also. On the day we arrived in Skillman in late January temperatures hovered in the low 40's. It was sunny with blue skies for most of the day. The museum sits on a rolling hill Hollow Road next to nearby homes and farms. Its a small, square, white sided, church building with a brown door and a glass shaped cross, that was once a former African Methodist Episcopal Church. Waiting in the driveway was our logistical coordinator, Linda Fernandez, Keir's partner, to drive us back to New Hope where we joined cousins for a small meal.
Plans to continue the walk the following week was interrupted by back to back snow storms over the next three weeks delaying the start of our walk from Skillman to New Brunswick. When we finally resumed the walk on Sunday March 14, we were delighted to be met at the museum by its Director, Caroline Katmann and two board members, Bruce Daniels and Catherine Fulmer-Hogan, who gave us a brief tour of the museum. For more about the history of the Stoutsburg Sourland African American Museum click here.