Sin Cita – A Caminata Across Puerto Rico
There are many things in life that happen without appointment. Weather forecasters can map out the trajectory of hurricanes but they can't tell us exactly where a hurricane will make landfall until after it happens. Instead they give a range of time and places where they believe the storm will most likely make landfall based on meteorological data.
Sin Cita, the project name for my walk across Puerto Rico, is based on the idea that many things in nature and life occur without appointment. In nature some of these things are based on seasonal changes when there is an increase in the possibility of weather disturbances.
In other instances like Puerto Rico's recent political crisis, it also occurred without appointment. In a short matter of days hundreds of thousands of people amassed in the streets of San Juan demanding Governor Ricardo Rosselló's resignation after leaked messages revealed offensive, obscenity-laden online chat between him and his advisers.
The name for the project was chosen many weeks before the recent political crisis erupted. Members of the planning team felt the name was appropriate for the caminata because of the metaphor it evokes about life.
Planning for Sin Cita is different then other walks I have attempted in the past because I am working as part of a team rather then as a solo hiker. It has taken some of the pressure off of me that I have felt in the past when planning long walks where I am responsible for every detail. While decisions are sometimes made a little slower they are made with the wellbeing of the group in mind.
A Second Long Walk
I wasn't planning a second long walk this year after returning home from Northern Ireland earlier this spring, but sometimes opportunities come along again without appointment.
Shortly after returning from my Walk Across Northern Ireland  where I commemorated the 50th Anniversary of the Belfast to Derry Civil Rights March, I was contacted by my brother, Keir Johnston, a Philadelphia-based artist, and co-founder of Amber Art and Design.
He said he was inspired by my walks over the past two years and asked if I would be interested in walking across Puerto Rico with him. The walk, he said, would be a follow up to other cultural exchange work that he has been doing over the past year, including an artist-in-residency program at the Allentown Art Museum. The residency involved collecting personal artifacts and other expressions of solidarity with residents of Puerto Rico as part of the museum's Tin Can Trust program  in partnership with the Caring Place, a youth development center in Allentown.
After easily convincing me that this is a cultural exchange project I should be involved with, he went on to explain the walk involves three to four other artists, including two of whom are from Puerto Rico. In addition, round-trip air, a sag vehicle to help carry our bags over the mountains, community engagement activities, and a film crew will be part of the journey.
My mouth dropped open at the resources the group was bringing. The idea of attempting a 114-mile long walk over 2-3,000 foot mountains without having to carry a fifty-pound backpack every inch of the way is a gift since that is the only way I have backpacked up to now. Part of the project is being made possible by a grant from a Canadian arts organization to help fund the walk.
While the grant will aid some aspects of the journey like airfare, I am fundraising to assist with meals, travel expenses, a few shared room nights, and equipment specific to Puerto Rico's tropical climate.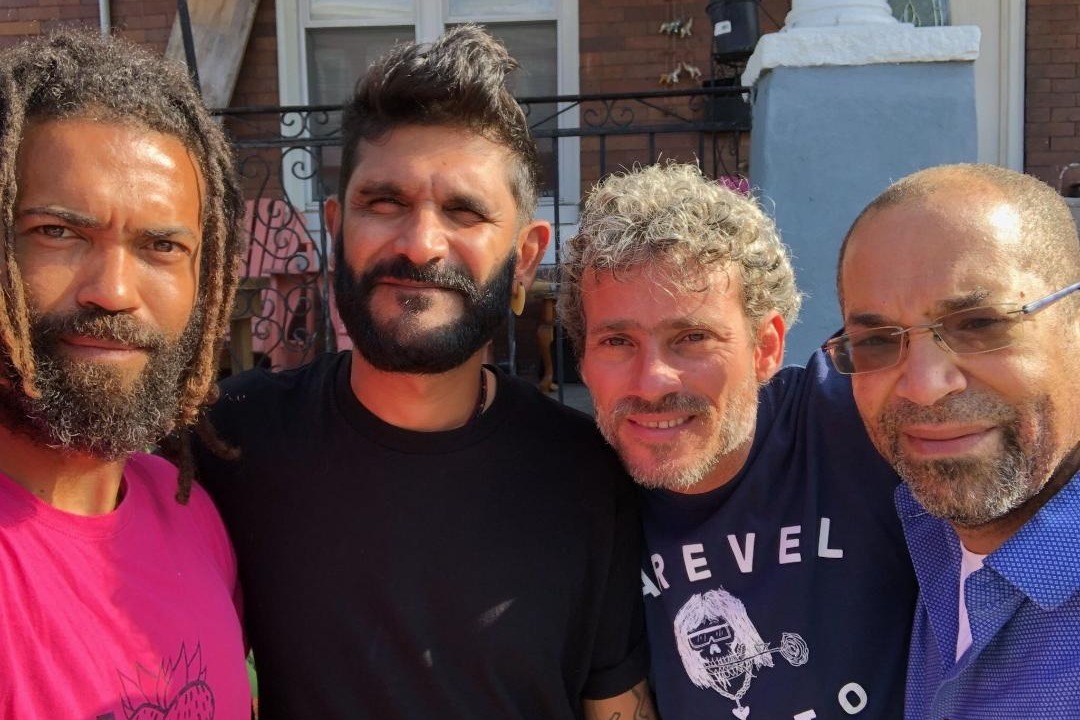 Goal of the Project
Sin Cita/Without Appointment, the name of the walk, is a learning journey across Puerto Rico. It serves as an opportunity for artists to listen and engage with vibrant and vulnerable communities, while examining our own approaches and strategies to instigate positive social change.
In a symbolic effort to mark two years since the arrival of Hurricanes Irma and Maria, members of four arts and culture organizations are initiating a 114-mile solidarity walk across Puerto Rico, from September 7 – 20, 2019.
Starting in Quebradillas on September 7, in the northwest corner of the island where Hurricane Maria rejoined the sea, the group will walk a diagonal trajectory across the Cordillera Central Mountains to the southeast coast where the storm first made landfall in Yabucoa on September 20, 2017.
Our intention is to explore what's possible when people look inward to revive traditions and cultural practices that support the spiritual and material development of communities. Since Hurricane Maria some of these communities have learned to trust themselves, when their governments have failed them, to find answers or solutions to resolving issues within their community that allows them to take control of their own future.
The walk will be captured in a series of video vignettes and a short documentary film featuring interviews with artists, community leaders and others along the route who can express the change, growth, joy, and adversities that residents on the island continue to experience today.
The organizations and individuals participating in the Sin Cita collaboration are: ArteSana (www.villacarmenatelier.org ), a San Juan-based community museum and art space dedicated to preserving the cultural legacies of Puerta de Tierra; ArtsEverywhere (www.artseverywhere.ca ), an international platform for artistic journalism; Amber Art & Design (www.amberartanddesign.com ), a Philadelphia-based public art collective that facilitates social/economic/political transformation through the arts; Heryk Tomassini (www.heryktomassini.com ), a Puerto Rican born multi-disciplinary artist and  architect; and Ken Johnston, (www.ourwalktofreedom.com ) an intrepid hiker responding to the call of social change, history and ancestral spirits.
Sin Cita was born out of our shared interest as a group of concerned artists focused on ways of advocating community partnership, collaboration and the development of individual cultural expressions towards the advancement of social justice and in defense of basic human rights in Puerto Rico and beyond.
Post Script
The recent political strife in Puerto Rico has delayed my efforts in publicizing the walk due to the sensitive nature of the events on the ground. It is my goal and the goal of the group to be in solidarity with the people of Puerto Rico during this transition of leadership. I look forward to learning about any significant changes on the island since the resignation of the governor on August 2, 2019.
Background
Until recently I lived in Holyoke, Massachusetts, before moving back home to Philadelphia, Pennsylvania. Holyoke is a former Gateway city for immigrants arriving from Canada and Europe. In more recent decades it has been a safe landing place for many residents of Puerto Rico seeking better employment, education and greater freedom as citizens of the United States. Members of the Puerto Rican community here are very active and politically engaged in the city, and played a vital role helping residents who fled the island after the hurricanes re-settle.
I attended the University of Massachusetts as a young man, and have lived here in the western Massachusetts since I was a boy. I've enjoyed the ebb and flow of marriage, the delight in raising a child, the profound grief of losing a child, and finally divorce. And after all these experiences I've learned one has to keep going in life because another horizon awaits you over the next mountain.
Walk to Freedom came about in late 2017 after I discovered the National Civil Rights Museum in Memphis, Tennessee was planning remembrance ceremonies in April 2018 to mark the 50th anniversary of Dr. Martin Luther King, Jr.'s assassination. I recognized the importance of this moment and I thought about how could I contribute to this great event.
I asked myself what could I do to honor the legacy of Dr. King's ideas? What commitment of myself could I offer the Civil Rights movement today? How could I pay homage to our ancestors who sacrificed so much for our freedom?
That's when the idea of Walk to Freedom was born. I realized if I was going to offer a symbolic gesture to Dr. King, move the Civil Rights movement ahead by one yard, give thanks to the original Freedom Seekers, then I was going to walk to demonstrate my commitment.